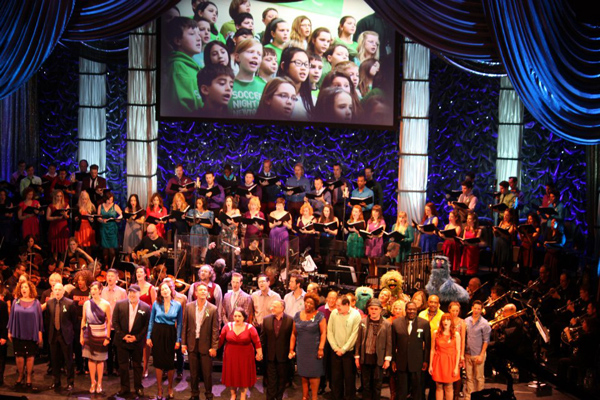 From Broadway With Love: A Benefit Concert For Sandy Hook, which took place on January 28, 2013, at the Palace Theatre had its broadcast premiere on Thursday, July 18 at 10 p.m on WLIW21, Friday, July 26 at 10 p.m. on THIRTEEN and CPTV, and Tuesday, July 30 at 10 p.m. on NJTV.
"From Broadway With Love" was a concert of healing for the Newtown community where composers, musicians and more than 100 stars of Broadway came together with over 300 students from several Newtown dance groups, the Sandy Hook Elementary School 3rd and 4th grades and the Newtown High School Chamber Choir. This commercial-free broadcast hour long version of the concert features renowned Broadway performers including Brian Stokes Mitchell (Tony Award winner: Kiss Me Kate, 3-time Tony Award nominee), Linda Eder (Jekyll & Hyde), Stephen Schwartz (6-time Tony Award nominee including Wicked, Pippin and Godspell), Micky Dolenz (Aida, member of The Monkees), Marc Shaiman (Tony Award winner: Hairspray, TV's SMASH), Michael Cerveris (Tony Award winner: Assassins, 4-time Tony Award nominee including Evita and Sweeney Todd), Frank Wildhorn (Tony Award nominee: Bonnie & Clyde and Civil War, Jekyll & Hyde), Nikki Blonsky (Golden Globe nominee: Hairspray movie), Alan Muraoka (Pacific Overtures, TV's Sesame Street), Robin de Jesus (Tony Award nominee: La Cage Aux Folles and In The Heights), Ashley Blanchet (Annie, Memphis), Capathia Jenkins (Newsies, Caroline, Or Change) along with Muppets and cast members from Sesame Street.
The 2 CD Set, Blu-Ray and DVD of From Broadway With Love are now available for pre-order at Amazon.com.
Broadway Records will donate 100% of its profits from the CD, DVD and Blu-ray to the
Newtown-Sandy Hook Community Foundation.



The concert event also featured Christine Ebersole, Paul Scott Goodman, Philip Boykin, Richard Kind, Mary Testa, Julia Murney, Janet Metz, Lance Guest, Erik Hayden, Randy Redd, Dan Mills and Victoria Matlock, Lee Rocker of the Stray Cats as well as members of the Broadway and touring casts of Sister Act and a stellar Broadway ensemble consisting of Krystle Adams, Lindsay Aster, Rachel Baker, Leslie Becker, Mimi Bessette, Brett Boles, Katie Branden, Corey Brunish, Billy Casey, Mark Chmiel, Andrew Clark, Aaron James Darr, Willie Dee, Hannah Rose DeFlumeri, Demi Fragale, Brian Golub, Carly Robyn Green, Curtis Howard, Anthony Johnson, Missy Keene, Richard Koons, Kyshawn Lane, Tony Lawson, K.C. Leiber, Danny Lindgren, Jaygee Macapugay, Rhyn McLemore, Mark Bradley Miller, Thomas Ortiz, Allie Parris, Annie Pasqua, Jenna Pasqua, Jennifer Prescott, Aaron Riesebeck, Emma Ritchie, Brian Charles Rooney, Gabrielle Ruiz, Roland Rusinek, Krista Severeid, Cory Stonebrook, Erin Sullivan, Stewart Tabler, Tiffany Trainer, Price Waldman, Jamie Westberry and Chris Woods as well as Pas de Deux dancers: K.C. Fredericks and Shanna Heverly.
The benefit concert was directed by Michael Unger (with one segment directed by Stephen Nachamie) and was produced by Van Dean and Kenny Howard of the Broadway Consortium, Jennifer Isaacson, Ken Mahoney, Sarahbeth Grossman, Bethney Ruggiero, Michael A. Alden, Rob Hinderliter, Yvette Kojic, Dale Badway, Mike Kostel, Meredith Lucio and Dominick La Ruffa, Jr. Jeffrey Saver (End Of The Rainbow, Sister Act, Chicago) is music director and conducted a 40 piece orchestra consisting of many top Broadway musicians. Librettist David Thompson (The Scottsboro Boys, Steel Pier, Chicago) helped the creative team shape the evening. Cindi Rush Casting acted as Casting Consultant. Tom Bussey served as Technical Supervisor, Tom McPhillips and Mike Rhoads are Scenic Designers, David Agress is Lighting Designer, Kristin Fiebig is Costume Designer, John Petrafesa is Sound Designer and David Bengali is Projection Designer. Zoya Kachadurian served as Production Stage Manager.

Event proceeds proceeds will go to support the Newtown-Sandy Hook community via the Newtown-Sandy Hook Community Foundation.
Tickets were provided at no cost to the families directly affected by the tragedy and any first responders who were at the school that day.
For the Sandy Hook Elementary School's students, families, teachers, and administrators, a limited number of tickets were available for free on a first come first serve basis.

Press Inquiries & Additional Resources:
Saul Markowitz - Markowitz Communications | press@frombroadwaywithlove.org | (412) 577-5140
Contact our press rep for access to our press downloads page which includes high res photos and show logo.
This benefit concert was made possible, in part, by the generous donations from many companies and individuals including All Mobile Video, Chelsea Post, Atomic Design, Bermuda Limousine International, The Palace Theater of Waterbury CT, PRG, production glue llc, Atomic Rental, Ken & Trish Mahoney, Sound Associates, Strategic Event Design, WorldStage, Consulting for a Cause, Evolution Industries, Department of Events (D.O.E), Mahoney Asset Management, One Dream Sound, Record Plant, Shaboo Productions, St Regis Deer Valley Utah, Sterling Affair Catering, New York Yankees, Yellow Sound Lab, Anthony Augliera Moving & Storage, Best Trails & Travel, Bernard & Sarah Boisseau/Bernard's Restaurant of Ridgefield, Broadway Records, Crowne Plaza of Southbury, Marriott Courtyard of Waterbury CT, Rapid Press, Rose Brand, Michael Ashendorf and Travel Techsperts, Chemtura Corporation, CP Communications, Julie Manfredi, Bonnie O'Sullivan, Marcus Miller, National Football League, Lynn Negron/Weenie Lynn's, Pret a Manger, Printech NYC, Russian Standard Vodka, The Ardian Group and Jeff Shelton, Tasty Chicken of Brooklyn, The Silent Orchestra, Big Y, Carroll Music, Coca Cola Refreshments USA, LampLust, Nola Studios, Ripley Grier Studios, Springworks, Haley Swindal, Vita Coco Coconut Water, Waterbury School Arts Management D.O.E, Tickets.com, Big Y, SpotLight Awards, Pepsi-Cola of Bristol, Tasty Bagels of Brooklyn, Crystal Rock®, Entrees & Encores, RM Bradley, Delta Air Lines, Hornblower Cruises, Bedlam Theatre Company, Contemporary Services Corporation, Show Lighting Corp, Holy Cross High School, Litchfield Piano Works, Diversified Building Services, Waterbury Arts Magnet School, YoCrunch Yogurt Company, Domick and Pia, Spice, Diorio's, Dottie's, and LG Electronics.